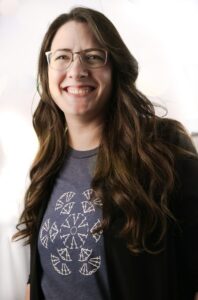 Leanna Haughian is an accomplished crochet designer and an all-around creative force.
She specializes in creating beautiful, modern designs with a classic twist. Her work has been featured in Crochet Foundry Magazine, on the Lion Brand website. She was also a designer on the runway at Crochet Fashion Week, where her unique style of adding leather elements to her pieces has been highly praised.
Leanna's passion for crafting and design is evident in her work, which is both eye-catching and unique. She is constantly pushing the boundaries of crochet design and creating stunning pieces that will be treasured for years to come. Whether you're a beginner or an experienced crocheter, you'll be sure to find inspiration and joy in Leanna's work.